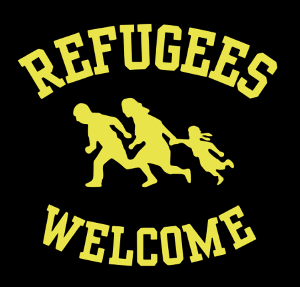 No interview will be given to corporatist mass media.
Special fuck you to Québecor Média and its peddlers of hate.
Others can contact the CLAC at info@clac-montreal.net
Why did we protest again?
May 1st was created out of workers' struggles leaded by immigrants. The struggle took place on this continent more than a hundred years ago. Today, globalized imperialist capitalism created conditions which forces millions of people to leave their home in order to find a refuge to survive. These millions of people are place in situations of extreme vulnerability, creating a stateless and exploitable population. According to an article published in the Devoir today, the risk to suffer from workplace accident causing severe wounds or death is twice as high for foreign workers.
All around us, capitalist and racist forces build the walls of a Canada and USA fortress, making work and life conditions more and more dangerous and precarious for migrants. This is why, on this MayDay, we attacked the acolytes of the anti-immigration machine: the border infrastructure, the companies who get richer by building prisons for migrants, who profits from the inhuman deportation system. This MayDay, we say fuck borders, prisons and all those who attack the migrants!
Why Lemay? Because it profits from prisons and deportations
For the last two years, Lemay profits hypocritically from migrant imprisonment. After only one month after having inaugurated a "human rights mural" on their new building in Saint-Henri, the Lemay group won a multi-million dollars contract for the new migrant prison in Laval. The architectural firm's contract contains:
greenery-covered fences covered to reduce its visual impact,
camouflaged window bars in order to make them invisible to the public,
six foot high visual barrier for the children zone within the prison.
Whatever paint color they use, this remains a prison. We want to live in a world without prisons, without borders, where everyone can live with dignity and respect. To imprison people, to limit their movement, and to deport them to dangerous situations or directly to their death, can only cause more pain and more violence.
No to borders and to prisons! No to companies which profits of the vulnerability of migrants!
-30-