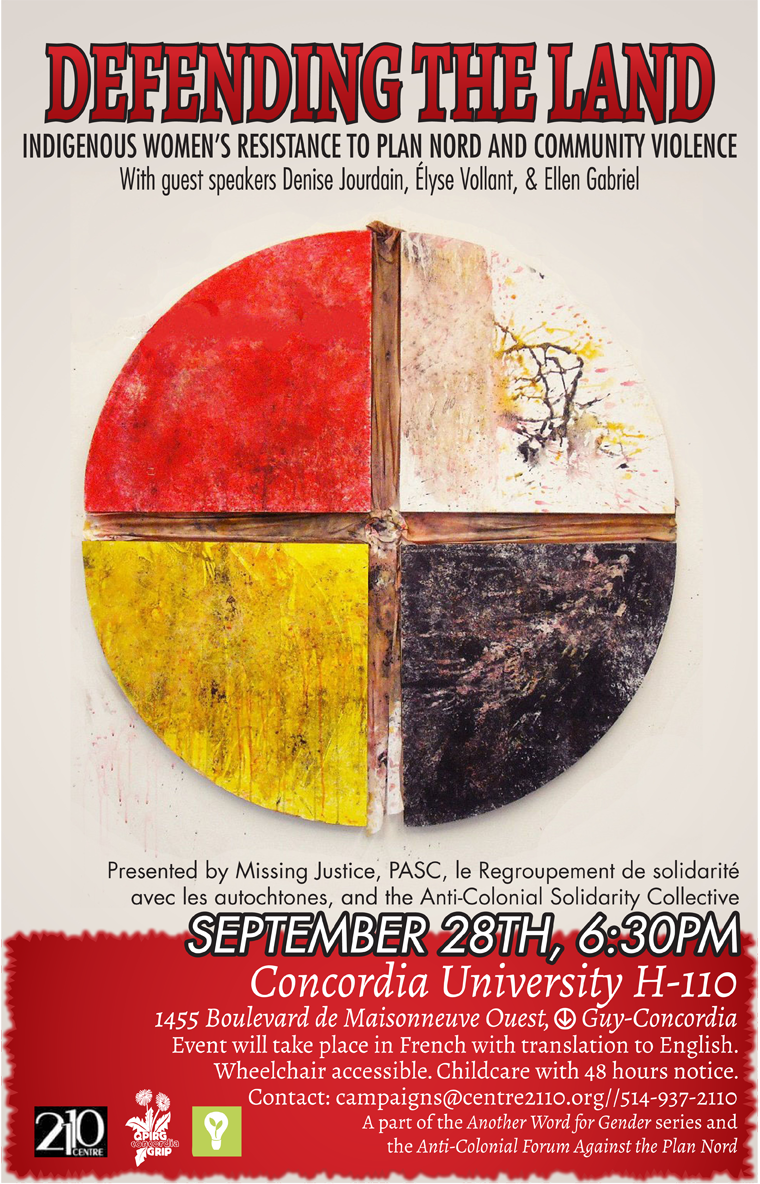 Innu women speak out about the Plan Nord and violence against their communities. Activists will discuss their opposition to the massive industrial development plan being imposed on them by the government. They will speak about the impacts of the new infrastructure development north of the 49th parallel and its devastating cultural and environmental implications.
Event will be in French with simultaneous translation to English. Événement aura lieu en français avec traduction simultanée en anglais. Wheelchair accessible, and childcare available with 48 hours notice. Presented by the 2110 Centre for Gender Advocacy's Missing Justice campaign (Justice for Missing and Murdered Indigenous Women) in collaboration with Regroupement de solidarité avec les Autochtones, Alliance Romaine, PASC and the Anti-Colonial Solidarity Collective.
With guest speakers Denise Jourdain, Élyse Vollant and Ellen Gabriel :
Élyse Vollant is an Innushkueu from the North Shore community of Uashat mak Maliotenam. She is a mother of eight and grandmother of two. Elise is against the Plan Nord for future generations and has fought against it as one of the women who walked from Uashat mak Maliotenam to Montréal for Earth Day. She was also one of twelve women who were imprisoned following the blockade of route 138 in March 2012.
Denise Jourdain is a member of the Innu community of Uashat mak Mani-utenam, on the north shore of the St.Laurence River. She presently teaches the Innu language to students at Johnny Pilot primary school. Denise is a direct descendent of the Vachon and Jourdain families who fought to keep their territorial rights in the 1950′s, having defied municipal, governmental and ecclesiastical authorities. She too was imprisoned for having defended her people's territorial rights in March 2012 during the blockade of route 138.
Ellen Gabriel was well-known to the public when she was chosen by the People of the Longhouse and her community of Kanehsatà:ke to be their spokesperson during the 1990 "Oka" Crisis. For the past 22 years she has been a human rights advocate for the collective and individual rights of Indigenous peoples. In 2004, Ellen Gabriel was elected president of the Quebec Native Women's Association a position which she held until December 2010. She believes that decolonization will be achieved by implementing the United Nations Declaration on the Rights of Indigenous Peoples with the full and effective participation of Indigenous peoples. She is an advocate for gender equity, the revitalization of Indigenous languages, culture, traditions and Indigenous governing structures.